Home Member Regional Governments South Korea (ROK) Introduction
Introduction

Republic of Korea (大韓民國)
Join History
Major Activity
The Association was established at Gyeongju of Gyeongsangbuk-do in 1996, enacting the "Charter of Association," to enhance the cooperation and interchange the administration, economics, and cultural experience and cooperation between northeast Asian members with the spirit of reciprocal equality. Lee Eui-Keun, the governor of Gyeongsangbuk-do, was elected as the first chairman.
The Secretariat of Association was made in Gyeongsangbuk-do by the decision at the Annual Meeting in Heilongjiang in 2004. (it was established at Pohang of Gyeongsangbuk-do in May 2005)
The joint declaration "the prosperity of Northeast Asia Region and the Role of NEAR" was made. Science Technology subcommittee was newly established.
Economy and Trades subcommittee held the "Conference of Business Promotion in Northeast Asia" for effective exchange of information regarding economy and trades between members in Gyeongsangbuk-do every year. In addition, it supported trades between members via internet in building networks for economy and trades.
Science and Technology subcommittee was initially held in Gyeonggi-do in 2007. It promoted cooperation to develop Science and Technology in the Northeast Asia and exchange between research institutions through workshops.
Sub-Committee on Energy & Climate Change was held in Daegu Metropolitan City in 2012 and contributed to collaboratively dealing with climate change among regional governments.
Jeollanam-do Province plans to hold Sub-Committee on Agriculture and Chungcheongbuk-do Province plans to hold Sub-Committee on Life and Medical Industry in 2013.
Jeollanam-do Province held the 1st Sub-Committee on Agriculture in 2013 and discussed 'the stable production of agricultural products upon climate change'.
Chungchengbuk-do Province held the 1st Sub-Committee on Life & Medical Industry and introduced the level of cutting-edge bio industry and enhanced the understanding of bio-life industry of participating member regions.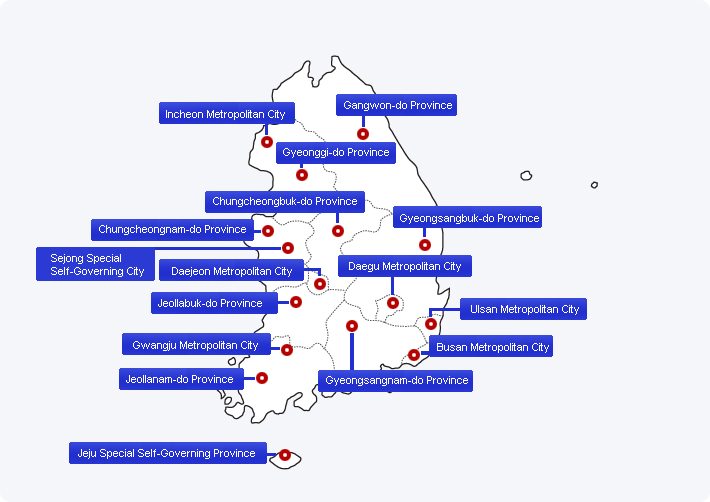 Contact Information
지역단체 목록

| No | Member Local Government | Tel | Address | Website |
| --- | --- | --- | --- | --- |
| 1 | Busan Metropolitan City | +82-51-888-3541 | 부산광역시 연제구 연산5동 1000번지 | |
| 2 | Daegu Metropolitan City | +82-53-803-3265 | 대구광역시 중구 공평로 130번지 | |
| 3 | Incheon Metropolitan City | +82-32-440-3215 | 인천광역시 남동구 시청앞길 25 | |
| 4 | Daejeon Metropolitan City | +82-42-600-2246 | 대전광역시 서구 향촌길 70 | |
| 5 | Gwangju Metropolitan City | +82-62-613-3082 | 광주광역시 서구 내방로 410 | |
| 6 | Ulsan Metropolitan City | +82-52-229-2744 | 울산광역시 남구 중앙로 182 | |
| 7 | Gyeonggi-do Province | +82-31-249-2191 | 경기도 수원시 팔달구 도청앞길 63 | |
| 8 | Gangwon-do Province | +82-33-249-2282 | 강원도 춘천시 봉의동 15번지 | |
| 9 | Chungcheongbuk-do Province | +82-43-220-3274 | 충청북도 청주시 상당구 상당로 158번지 | |
| 10 | Chungcheongnam-do Province | +82-42-251-2175 | 충청남도 대전광역시 중구 선화동 287번지 | |
| 11 | Jeollabuk-do Province | +82-63-280-2811 | 전라북도 전주시 완산구 중앙동 4가 1번지 | |
| 12 | Jeollanam-do Province | +82-61-286-2174 | 전라남도 무안군 삼향면 오룡길 1번지 | |
| 13 | Gyeongsangbuk-do Province | +82-53-950-3085 | 경상북도 대구광역시 북구 산격동 1445-3번지 | |
| 14 | Gyeongsangnam-do Province | +82-55-211-2833 | 경상남도 창원시 대방로 1번지 | |
| 15 | Jeju Special Self-Governing Province | +82-64-710-6263 | 제주특별자치도 제주시 문연로 2번지 | |
| 16 | Sejong Special Self-Governing City | +82-44-211-3453 | 세종특별자치시 조치원읍 군청로 93 | |