Chungcheongbuk-do Province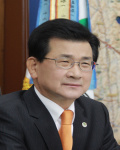 Symbol

Emblem

tree
Zelkova

bird
Magpie

flower
Yulan
History
The Three Hans Period: Chungcheongbuk-do belonged to Mahan's territory that consisted of a tribal federation with 54 clans.
The Goryo Dynasty (1106): Called Chungcheong-do integrated with Hanamdo (now, Chungcheongnam-do) during the 1st year of King Yejong.
The Joseon Dynasty (1896): The nation was reorganized into the 13 do (province)system and at this time the province was first named Chungcheongbuk-do with the provincial office in Chungju.
Topographic Features
Chungcheongbuk-do is located in the center of the Korean Peninsula, the eastern end of the Asian Continent. It is the only landlocked province not bounded by sea in the country.
Chungcheongbuk-do forms a large basin surrounded by Taebaek Mountains to the northeast, Sobaek Mountains to the to the east and Charyeong Mountains to the northwest and as a consequence, it has the continental climate rarely in the country.
Basic Information


Contents
Geography/Climate

Area : 7,408㎢ (As of 2019)
Location : 37˚15′20″~ 36˚00′35″north latitude and 128˚38′15″~ 127˚16′40″ east longitude
Climate - Temperature: max. 33.5℃, min. -10.1℃, average 13.7℃ - Annual precipitation 1,562㎜

Population

Population : 1,598,536 (As of September 30, 2020)
Number of households: 738,094

Major Event

Uruk Cultural Festival, Jechoen Uibyeongje(Festival for the Loyal Troops), Sobaeksan Royal Azalea Festival

Tourist Attractions

Mt. Songnisan, Beopjusa Temple, Mt. Sobaek National Park, Suanbo Hot Spring, Cheongju National Museum, Mt. Worak National Park, Cheongpung Cultural Complex
Economic Status


Contents
Economy(As of 2019, provisional)

GRDP : ₩ 66,974 billion
Per capita GRDP : ₩ 42.6 million

Industry (As of 2019, provisional)

Service industry 62.9%, mining manufacturing industry 26.2%, construction industry 10.3%, agriculture and fishery 0.6%
Specialized industry : Semiconductor, biopharmaceuticals, Smart components, solar rays, transport parts

Products

Agricultural and fisheries product : ginseng, grape, chili, peach
Industrial product : Semiconductor, magnetic tape, textile, cotton yarn, computer head
Specialty product : Ceramics
Others
Contact:International Trade Division
Address:82(Munhwa-dong), Sangdang-ro, Sangdang-gu, Cheongju-si, Chungcheongbuk-do 28515, Republic of Korea
Tel.:+82-43-220-3463
Fax.:+82-43-220-3469
Official Website : http://www.chungbuk.go.kr