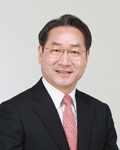 Symbol
Symbol

| City Emblem | City flower | City tree | City bird |
| --- | --- | --- | --- |
| | Rose | Tulip tree | Red-crowned crane |
History
1949 : Incheon bu is renamed Incheon City after the enactment of the Local Government Act.
1968 : With the implementation of the district (gu) system, four districts are established: Jung-gu, Nam-gu, Dong-gu, and Buk-gu.
1981 : Separated from Gyeonggi-do Province and elevated to a Directly Governed City by the central government.
1995 : Incheon Directly Governed City is renamed Incheon Metropolitan City.
Regional Characteristics
Development and growth have continued: Incheon Harbor was expanded, and Incheon International Airport was opened in March 2001; tourism and leisure complexes and new residential complexes were constructed, the Songdo New Town was developed, and the Free Economic Zone Authority was opened in October 2003; an urban regeneration project was implemented; the 2014 Asian Games were successfully held.
Basic Information
Contents
Geography/Climate

Area : 1,063km²(As of 2019)
Location : 37˚28′north latitude and 126˚37′east longitude
Climate : Average temperature 12.7℃(max. 38.9℃, min. -21.0℃) Annual precipitation 1,120.3㎜

Population

Population : 2,942,553 (As of September 30, 2020)
Number of households : 1,259,167

Major events

Incheon-China Day Cultural Festival, Incheon Marine Festival, Incheon Sky Festival, Bupyeong Pungmul Festival, Sorae Inlet Festival

Cultural Heritage

Wolmido(Island), Yongyudo(Island), Deokjeokdo(Island), Yeonan Pier, Sorae Pogu(Port), Bomunsa Temple, Mt. Manisan
Economic Status
Contents
Economy(As of 2019, provisional)

GRDP: ₩87,671 billion
Per capita GRDP: ₩30.4 million

Industry (As of 2019, provisional)

Service industry 61.6%, mining manufacturing industry 30.5%, construction industry 7.8%, agriculture and fishery 0.1%
Specialized industry : Logistics
Others
Contact:International Cooperation Division
Address:29, Jeonggak-ro, Namdong-gu, Incheon 21554, Korea
Tel.:+82-32-440-3210
Fax.:+82-32-440-8625~8626
Official Website : http://www.incheon.go.kr